I got some much needed shut eye this weekend, but now that I'm back at work, it's like my "catch up" had little to no affect. I was chuckling to myself on my drive home Thursday after work as I tried desperately to rein in my road rage, remember how I'd just written a post about how regardless of my lack of sleep I was in
such
a "good mood." Yeah...that didn't last long LOL. As planned, I crawled into bed at about 6, ready for a long and necessary night of sleep but ended up not falling asleep till about midnight. Ah...se la vie. Thank God for weekends.
My mom came by on Sunday and we finalized the guest list for the wedding (we originally planned on about 120 guests, but now it's looking more like 200 - holy cripes! I didn't even know we knew that many people!!). We also spent a couple hours bickering over the wording of the invitations, respond cards, and reception cards before finally coming to a compromise we were both happy with, and we officially ordered the invite! I know it's probably a little early, but this leaves room for any possible errors in printing. This is, for the most part, what the final draft will look like (there's a couple extra lines we added and the initials in the middle section will be different and I omitted some information 'cause you never know who's reading this stuff):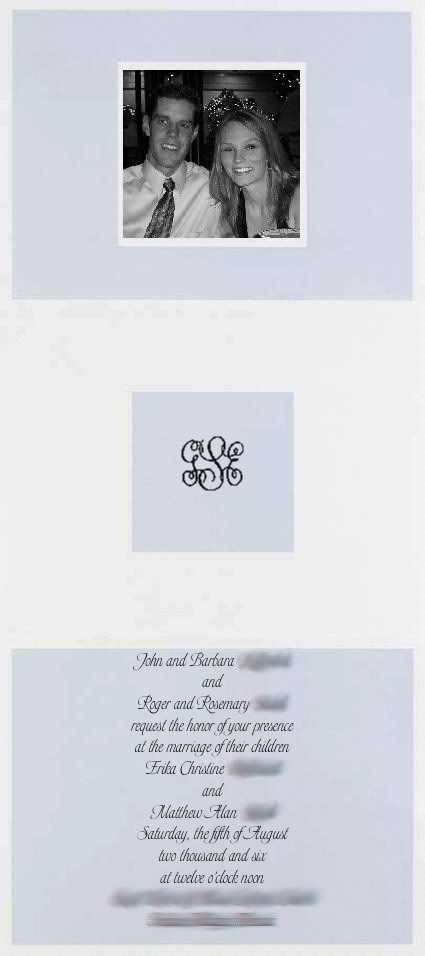 It folds into thirds, so when our guests open the inner envelopes the first thing they'll be greeted with is our shining faces (that won't be as grainy as they appear in this image). I was on such a roll with wedding planning last night, I made out a spreadsheet in Excel for the master guest list, alphabetizing the names with addresses, marking whether or not they were invited to the rehearsal dinner, and color coding the lines based on who invited them (pink for my family, blue for Matt's family, and purple for mine and Matt's friends). I'm an organizational freak - stuff like this is my forte, and I love it!
When she came over, my mom brought some mail for me that had been delivered to her house - some school related stuff still gets directed there, particularly scholarship information. When I graduated high school, I was eligible for a very hefty scholarship for being a Nevada graduate and going to a Nevada university (that's the thing about the great state of Nevada - they take care of their own). My freshman year of college was a disaster, and I ended up losing the scholarship - in fact, I ended up on academic probation. Last semester, with Matt gone and with very little else to distract me from my school work, I received excellent grades; the letter my mom brought me yesterday was informing me that due to my grades raising my overall GPA, my scholarship had been reinstated! Yay me!! It was incredible news, and I'm really happy about it, so I wanted to share it :)
Matt called around midnight last night and we talked excitedly about the scholarship (he was very happy for me), about the wedding, about him coming home, about all that stuff that's incessantly occupied our minds since the beginning of 2006. He'd had the day off to have tests done to make sure he wasn't hosting some icky virus that he'd take back to the states with him - I guess it's standard procedure for guys who are 30 days or less away from leaving country. 30 DAYS AT MOST TILL HE'S HEADING BACK TO THE STATES!! We still have no concrete dates, but I would expect nothing more of the army.
I don't even think it's fully settled in yet that he's really coming home. Sad as it sounds, I've become so used to the army changing its mind, changing dates, changing everything that it's hard for me to grasp the reality of Matt's homecoming. I'm excited as I can be, which is pretty damn excited, and every now and then, the gravity of the situation will dawn on me and I'll randomly scream or squeal or move my feet around erratically, but underlying all the excitement is that fear that something will change and he won't be home in March like we expect. Of course, that's all pessimistic and just something that lingers in the very back of my mind, but I can't let it go because the cold hard fact of the matter is, you never know with the army.
On the 15th, we received the following email from the commander:

Dear...Family members,

Greetings to all, I hope all of you have had a safe and happy holiday season. The Task Force hosted a party Christmas Eve along with a bonfire. All Company's participated together in remembrance and reflection of the year's events with homemade videos and skits. It was a good break from the war to remember the reason we are here and the sacrifices we have made. During the holidays it hard [sic] on the soldier and the family who are both so far away. We received a tremendous out pouring of gifts, letters and presents which convey the thanks of a country for what we have all endured. Believe me when I say it makes a difference when support is shown throughout the nation to the individual soldier. The 1SG and myself thank all of you. We have begun the demobilization process and expect a speedy return. We are in contact with our replacements and are beginning the transfer phase. We have learned valuable lessons in the past 12 months and want to see the next Company succeed in this mission by carrying the flag even further than we have. All of the soldiers ... have grown personally and professionally, as individuals and as a unit together during the past year and have been focused on one task, and one task only, "carry the mission to our enemy". The anticipation of coming home is sometimes unbearable and frightening due to simple things like driving. We have not been able to go over 10 MPH in a vehicle for the last year, so going 60 MPH in traffic back in the States feels overwhelming. Things will be different for awhile until we get use to our former lives, and this change is going to affect everybody. We all have put heart and soul into this effort and have made sacrifices, some greater than others; however we see the effect on this country everyday. I expect we will be home in March with a total of 14 months of Active Duty service and look forward to sharing our experiences. Until then, stay the course and bless you all.
I never thought about the little things that would have changed - I only took into consideration the egregious things, the things he possibly
saw
that would change him, and not things like the return to total civilization, stuff like driving down the freeway at 60 mph (or, in my case, more like 75). Undoubtedly it'll take time for both of us to adjust to everything - our lives have been very different for the past 13 months - so I've begun to "prepare" myself mentally for reunion. I know it'll be a happy time, but I've also recently become aware of what an enormous change it'll be for both of us. 39 days and counting!!!!!
wishing matt was here @ 10:56 AM+
|
* * * * * * * * * * * * * * * *