It's been life per usual this week since Matt's left. After dropping him off at the airport a week ago today, I was surprised at how quickly I got back into "the way things were." I was down in the dumps on Sunday, periodically crying on Monday, and pretty well back into routine by Tuesday. We had a great time and I already miss him like hell, and I suppose I can attribute my quick bounce back to this being the third goodbye of this kind, not to mention there's a lot of solace in knowing this was the last one.
Between the time I got off work on the Friday Matt was due to come in and the time I went to the airport to pick him up, I spent a tortured few hours counting down time by half hour sitcoms and chewing my nails to the cuticle. I must have called American Airline's hotline about a dozen times to make sure his flight would be arriving on time - it was 3 minutes early! When it was finally time to go, I opted out of asking for a gate pass because at that point, I honestly considered myself incapable of conversing I was so excited. Instead I burned a hole in the carpet pacing back and forth in front of the security check point.
I knew what he would be wearing as it was the one set of civilian clothing I had left him with when I last saw him in Ft. Sill, but he still almost walked right past me even after I saw the familiar black shirt. It was just too surreal to register right away - that was Matt walking by me, 20 feet away, not on the other side of the world - but as soon as it did and my brain started screaming, "MOVE YOU IDIOT!," I nearly plowed him over sprinting into his arms. And I cried. It had been a while since the reason I was crying was because I was so happy.
Our first evening back together was mainly blubbering to each other about how unbelievable it was that we were actually there together; we relaxed for a while on Saturday, took our dog for a walk before dropping him off with my friend H who would be watching him while we were on our vacation in California, and had a couple drinks at "our" bar that night - a bar neither of us had stepped foot in in 5 months (I absolutely refuse to go there without him). We spent most of the day Sunday visiting with my parents. I got to show Matt where we'll be having our wedding reception, and there was an indescribable joy that filled me every time I got to introduce Matt as my fiance (an opportunity I never really got since he was deployed a couple weeks after proposing).
Early Monday morning we were off to Sacramento to spend a couple days with Matt's family; we wouldn't be heading to Southern Cal till Wednesday. Our time in Sacramento was mainly visiting with family and a couple home-cooked meals. Monday night we all drove the couple hours to Oakland to see the A's beat the Devil Rays (one of their FEW wins this year), we spent Tuesday mostly with Matt's grandma, and Wednesday morning we were off to Los Angeles for 9 days of nothing but Matt and Erika time (I was glad he got to see his family, but when it comes right down to it, I'm very selfish).
Our time in Los Angeles was a blast. I'll spare writing out every single detail of the things we did (otherwise this would probably have to be a 2 part post!), but I can highlight most of it... Our first hotel was right in the heart of downtown, and we stayed there for 3 nights. We saw Hollywood, Rodeo Drive (of
Pretty Woman
fame), Universal Studios, mastered the L.A. subway, ate like royalty 2 nights, and indulged in delicious Chinese food in Chinatown on the third. We got really dressed up for dinner at one of the nice restaurants we went to (you can see us in our fancy attire in the pictures from the post below), and had, in my opinion, the ultimate downtown L.A. experience (though we didn't get mugged, so I suppose it wasn't necessarily the "ultimate" experience...LOL).
We headed to Costa Mesa on Saturday (about 45 minutes away from downtown) for the next 5 nights of our vacation. We got some shopping in at the awe-inspiring mall across the street from our hotel (I bought an Armani jacket!!! I've never owned such a brand name, it's gorgeous!). Our time in Costa Mesa consisted of beaches, an awesome aquarium and boat tour in Long Beach, a couple movies (
Madagascar
and
Cinderella Man
- both EXCELLENT movies), and of course, Disneyland. We were like a couple of little kids at Disneyland! Despite the fact that Space Mountain, the Matterhorn, AND Thunder Mountain were closed (and as a result there was an 85 minute wait for Splash Mountain, which we didn't go on either), we had a blast. Thunder Mountain opened up at the end of the day, so we at least got to go on that, and though I was greatly disappointed that Space Mountain was closed, I can't say our time at Disneyland was at all affected by it. We spent minimal time at the other theme park -
Disney's California Adventure
- mostly for the roller coaster. There's not too terribly much to do on that side of Disney; in some ways it seemed as though they'd made rides just to make rides....Oh, look honey, a ferris wheel that they tried to disguise as something other than a ferris wheel.....
Our last day in Southern California, we decided we'd head to the NBC Studios in Burbank in hopes of seeing The Tonight Show with Jay Leno. It was a bit of a trip as Burbank is about an hour from where we were staying in Costa Mesa (slightly more with traffic), and we arrived at the box office the moment it opened only to find out they were completely out of tickets. Why? Because the guest that day was Tom Cruise and people had been waiting in line since about 4 that morning. Go figure. The cashier in the ticket office all but laughed at me when I asked for tickets to the Jay Leno show. We took a tour of the NBC Studios anyway, but we'd been planning on going to see the Dodgers later that evening and since we didn't get tickets to Jay Leno, had nothing to do in the interim. We ended up nixing the Dodgers game and spent the day lounging around the hotel pool, got some champagne a little later and made a toast to us and our incredible time together.
We stopped for a night in Sacramento on our way home so Matt could say one last goodbye to his family, and then it was just 2 nights and a day left before I would have to take him to the airport for the long trek back to Afghanistan. The two weeks slipped through my fingers like they hadn't even existed; it seemed like I'd just picked him up at the airport and already it was nearly time for me to take him back. Nonetheless, we got the most out of every single second we spent together, so though it flew by, it was everything I needed to get through the next 9 months or so.
On Sunday morning when I took Matt to the airport, I got a gate pass so I could wait with him and was surprised to find that I was the only wife/fiance who had. The couple other guys Matt had traveled home with were sitting in the waiting area alone. Unlike when he had flown in, he was flying out in his DCUs, so there was a certain amount of pride that flowed through my veins everytime someone thanked Matt. How glad I was to be the girl holding his hand! When the time came for him to board, I couldn't bear to let him go. We held on for as long as we could, crying and hurting in a way that should never have to be familiar but that I know all too well. After I finally let loose my iron grip on his hand, complete strangers put their arms around me, comforted me, told me they felt for me even though they could never really understand unless they'd been through it; regardless, it was a kind gesture.
Going back to work on Monday was tough, and I even debated not going, but I'm glad I did. The sooner I got back to work, the sooner I got back into the swing of things. It truly does make 9 months seem like it's really not that long. And it's not! In the grand scheme of things, what's three-quarters of a year? When Matt left on Sunday, the foundation of our relationship was stronger than ever as was our unconditional love for one another, a reaffirmation that nothing could tear us apart, not even 9 months and thousands of miles.
On a happier note, as I mentioned before, there is a fabulous new little girl in my life. When Matt told me I could get a kitten to keep me occupied till he gets home, I wasted absolutely no time. I got her on Wednesday (even though I'd just gone to "look"...hahaha). Thinking up a name for her proved to be challenging as Matt's stipulations were that it should be military related, and even though he won't be meeting her for, well, 9 months, it was he who came up with the perfect name for her: Freedom. She's a little princess, a calico/tabby mix (I'm guessing), and adjusting quickly to her royalty status (in other words, I've already spoiled her rotten). So without further ado, here's some irresistably adorable shots of Freedom the deployment kitty (click photos to enlarge)....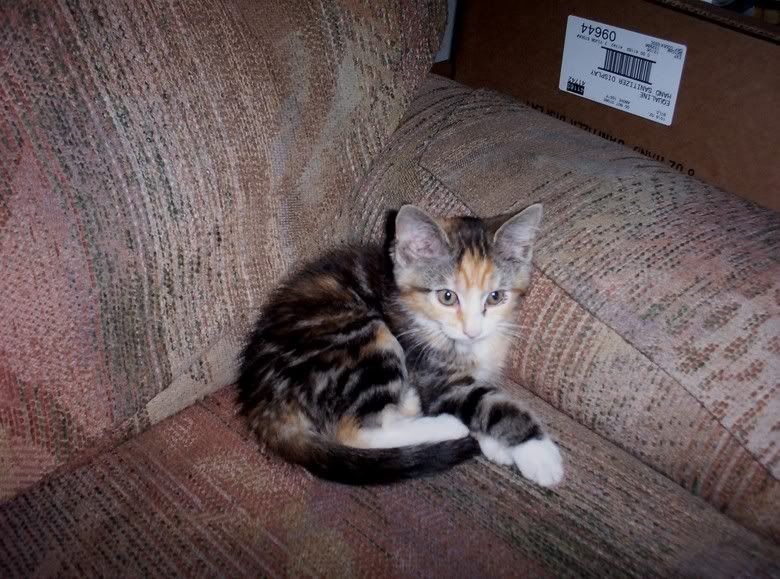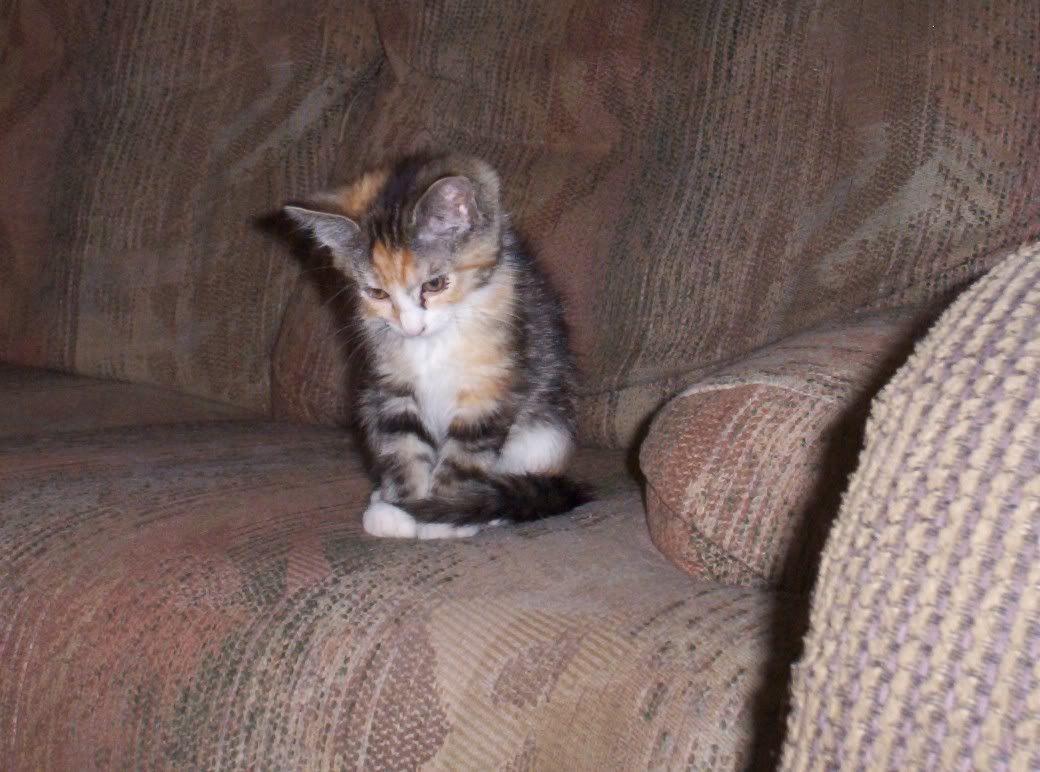 To see more glamour shots of my cute little diva,
click here
. I'm not a proud new mommy or anything LOL. My other kids are adjusting to their new little sister - the dog, Tommy, adores her, and the cat, Ashes, is slowly but surely warming up to her (he's a little hurt over not being the only cat anymore, but he's at least stopped hissing at her).
I'm too lazy to repost a link to pictures from my trip, so if you haven't yet seem them, the link is in the post below! :-)
wishing matt was here @ 5:53 PM+
|
* * * * * * * * * * * * * * * *