So first and foremost I must apologize for how long it's been since I've posted! I've been insanely busy since I got back from Oklahoma - everyone in my office thought they'd "help" out by attempting to do my job for me and in the long run, only created MORE work for me since now I have to go back and fix everyone's errors. Ah, se la vie.
Going to Oklahoma was...wow. Just wow. I can't even begin to describe how great it was to see Matt. Despite myself, I couldn't get excited on the plane; I kept thinking something bad was going to happen - the plane would get cancelled, delayed, or something worse, Enterprise would've lost my rental car reservation, my hotel room wouldn't be booked. I didn't want to get excited until I was IN Lawton, Oklahoma, sitting in my hotel room waiting to hear from Matt. Luckily, everything went very smoothly - I made my connecting flight in Phoenix with over an hour to spare, and we even arrived in Oklahoma City 10 minutes early (the first time I've ever had a pleasant experience with Southwest!).
My rental car reservation was, in fact, messed up, but it actually ended up working out in my favor. I had reserved a compact car - the cheapest - and they had none left. How do you not hold cars for the people who reserved them? I'll never understand how these different companies work. However, their err resulted in me getting an SUV for the price of a compact. Can't complain there! The hour and 15 minute drive between Oklahoma City and Lawton boasts a lot of cows, horses, big empty plains, and not one, but TWO toll booths (within 20 miles of each other).
When I got checked into my hotel room is when I actually started getting excited. I was in a position where the only thing that could go wrong was Matt not getting leave, but even if that happened, I'd still at least get to SEE him. I was at the hotel no more than an hour when Matt called my cell phone to find out what room I was in and tell me that he was en route via taxi. I couldn't sit still after that - got up and paced around the little hotel room till I heard that knock on the door and literally plowed over Matt as I ran into his arms. It was so strange to see him. It'd been nearly 2 months since I'd felt his arms around me. The last time I saw him was when a bus was taking him to the airport, away from me, and the fact that I was with him now, feeling his arms around me, was absolutely surreal. I started bawling. I can't put into words how happy I was; I couldn't even begin to describe the feeling of elation.
We picked up right where we left off. The first few hours were a little weird - not because things were awkward between us, but because it was so unrealistic that we were actually there
together
. In 4 and a half days, we saw all that good ol' Lawton, Oklahoma has to offer, we drove into Oklahoma City and spent a whole day there, exploring downtown, visiting the Oklahoma City bombing memorial, he showed me around the base. I fell in love with Matt all over again, and while we're merely at the beginning of what will undoubtedly be a long and stressful adventure, getting to see him before he headed overseas helped both of us so much. Aside from a small deployment ceremony we had to attend at Ft. Sill on Thursday, we were able to enjoy his 4 days of leave completely uninterrupted by the army.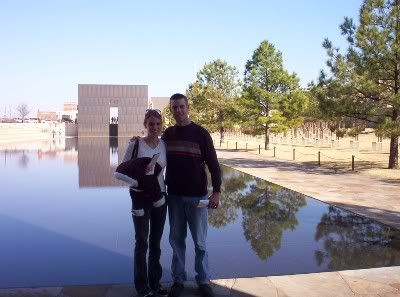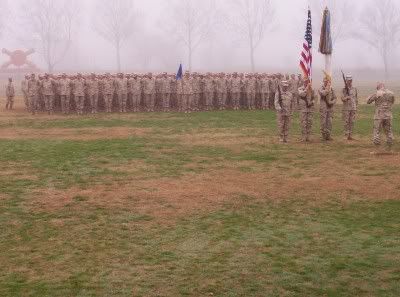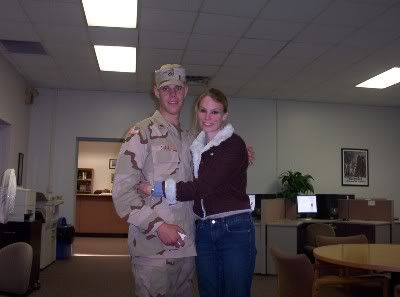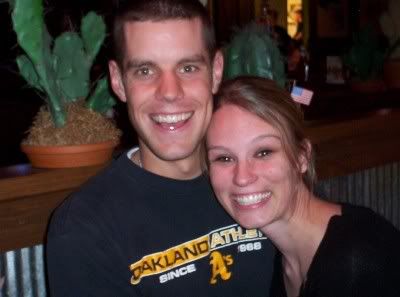 On our last night together, we went out for drinks and an enormous meal. Matt's "last meal" request was prime rib, his favorite, and the last time he'll be eating it probably until his R&R leave. I asked a gentleman sitting at the bar to take a picture of us (the one shown above where I'm grinning like an idiot), and shortly afterward, the bartender approached us and told us that the man who had taken our picture early would like to buy us a round of drinks. When Matt went to thank him for his generous offer, he told Matt that it was so apparent how in love we are, and how happy it made him to see young couples like us, so absolutely enthralled with each other. He said he and his wife had been together for 35 years, and he could tell that we'll be as in love 35 years from now as he still is with his wife, to always remember this and 35 years from now, if we see a couple as madly in love as we are, to buy them a round of drinks.
The waitress who served us told us how her husband was currently in Iraq - being that it houses Ft. Sill, Lawton is a very military oriented town. Everywhere we went were people who were in the same position as us, wives whose husbands were overseas. Another couple bought us a round of drinks, "from one soldier to another," and the night ended on a high note.
As of this moment, Matt is officially in Afghanistan. He left Wednesday evening, so you can imagine how well I slept that night. I said a rosary before going to bed, and woke up in an absolute panic. I honestly think I could literally
feel
that Matt was no longer in the same country as me. Though they're running on zulu time, Afghanistan is 12 and a half hours ahead of Nevada. It's such a strange thing to think about - he is on the complete opposite side of the world. Save for going into outerspace or perhaps going to a far east corner of Antarctica, it's not feasibly possible for him to get any further away from home than he is; if he heads any further east, he'll be slightly closer to home again!
I wasn't expecting to hear from him for at least a week, so imagine my surprise when he called me last night. He'd arrived safely in Afghanistan after a miserable 18 hour flight in a cargo plane; he said it was morning, but he had no idea on what day, that he was suffering so terribly from jet lag, but trying to stay awake as they only had a day to adjust. I was surprised at how crystal clear our connection was - I guess I expected him to sound distant, far away, like he is. I expected him to just be a small voice on the other side of the line, but aside from a really awful delay, it was actually more clear than the payphones he'd called me from in Oklahoma. However, the delay sucks terribly. That'll take some getting used to....
I miss him so much. Having to say goodbye again wasn't very enjoyable; after dropping him off at the base early Saturday morning (he was supposed to be there Friday night...shhhhh), I went straight to the airport in Oklahoma City even though my flight wasn't for another 5 hours or so, and proceeded to sit at my gate and cry and sob without any care for what the people around me must be thinking. Nonetheless, I'm so grateful that I go to see him that one last time before he left. The year has officially started, and now it's only a matter of waiting.
(On a side note, what do you guys think of my new template!?!)
wishing matt was here @ 9:53 AM+
|
* * * * * * * * * * * * * * * *